Light on the weight, heavy on the style, these polymer clay earrings are the perfect creative-not-clunky accessory for your next ensemble.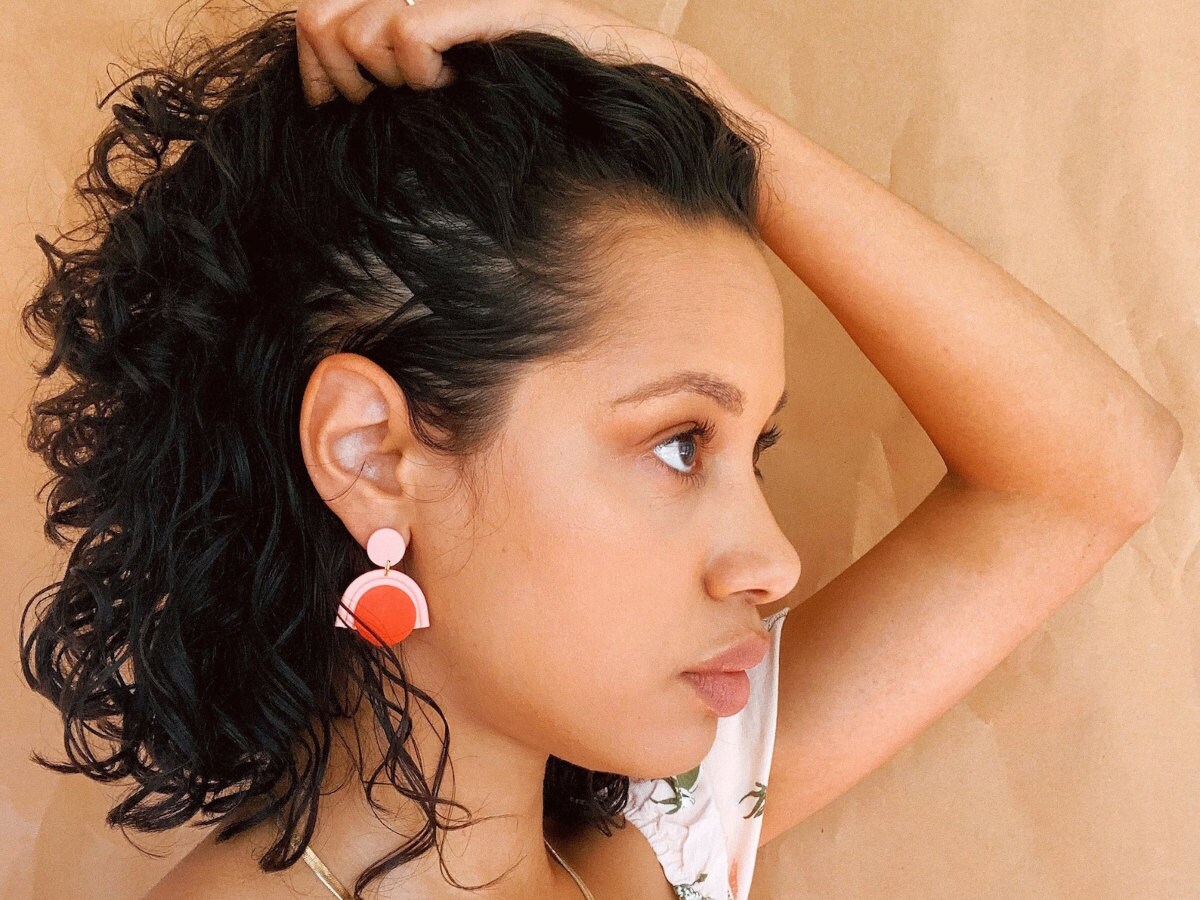 The newest statement-making earrings in town share a stylish secret that's oh-so-practical: they're made from polymer clay. The ultra-pliable material is rolled, formed, and hand-molded by talented artisans, then carefully baked and sanded for a smooth feel. The attention and care that goes into creating each pair of clay earrings is apparent in their ultra-fine details and hand-drawn textures. Because of this exquisite handcrafting, no two pairs are exactly alike.
Choose your hue from bold colors or muted pastels; play with patterns or shimmer; mix it up with hoops or studs, push-back or clip-on—there's a style for everyone. And did we mention the clay material weighs almost nothing on your ears? Our only note of warning is be prepared for major compliments.
Colorful clay earrings
Go for the bold in these cool styles from small shops. From boho hoops to oversized studs, these cute clay earrings add a pop of color to any outfit. No matter which striking shade you pick, the lightweight material ensures your earrings will be as comfortable as they are eye-catching.
1. Guava pink statement earring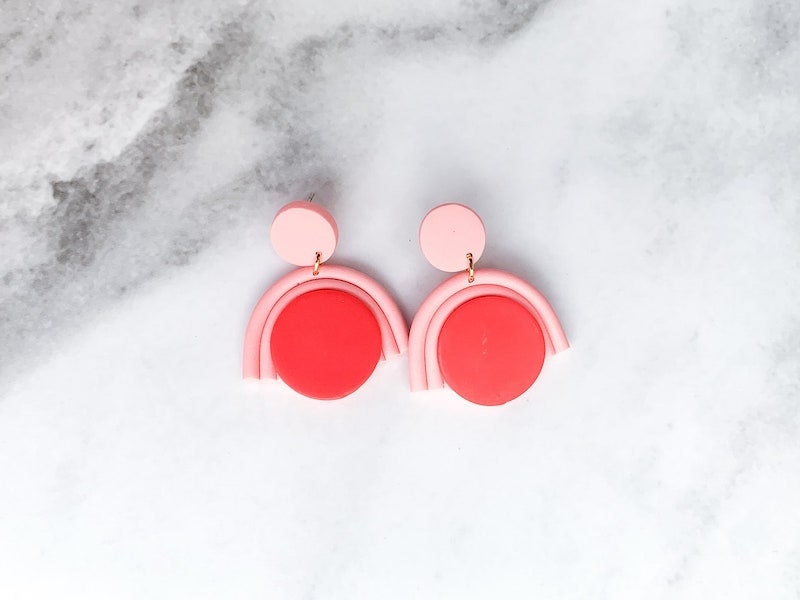 What's better than an avant-garde set of colorblocked clay earrings? Hypoallergenic stainless steel, nickel-free posts for sensitive ears. Buyers love the vibrant shades and light-as-air feel from this maker.
2. Oversized studs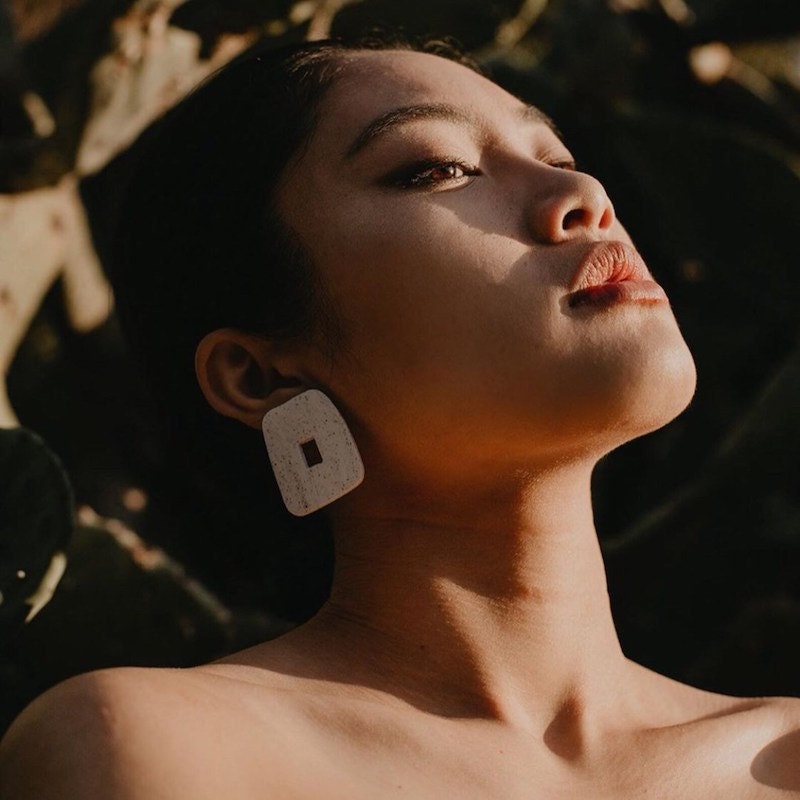 This oversized style makes an impact while still feeling ultra light for all-day wear. Win win! Repeat shoppers love the unique shape (and report multiple compliments).
3. Handcrafted hoops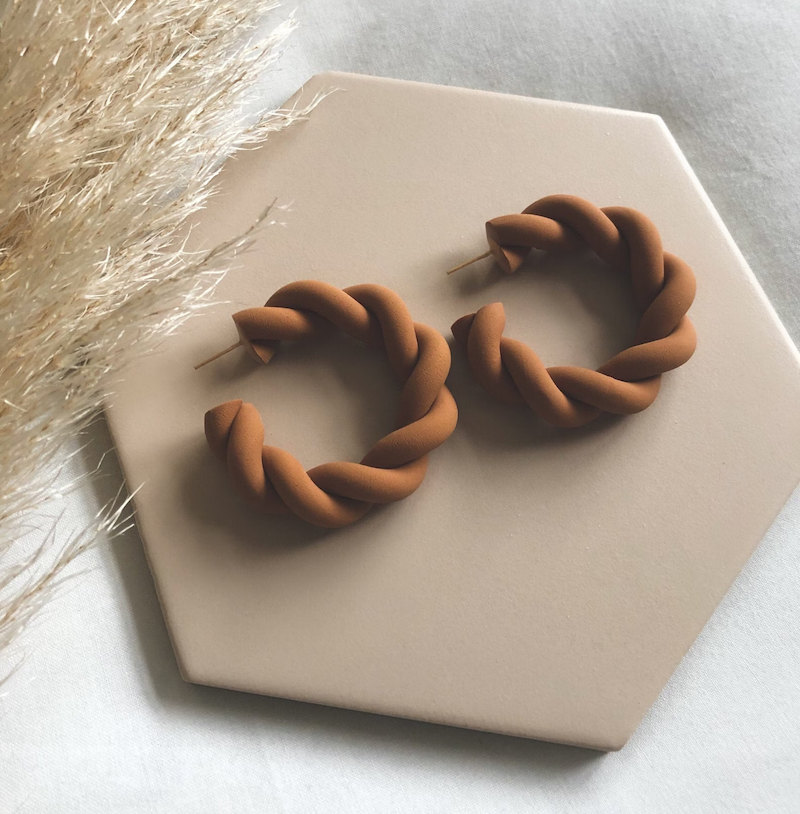 Enjoy this clay twist on the classic hoop, finished with either gold or silver plating. These clay cuties have nickel-free, lead-free stainless steel posts and are sent with recyclable packaging. They are so comfy some buyers even sleep in them!
Sparkling statement earrings
Whether you're going for a delicate sparkle or a dose of bold gold, it's your time to shine. Each handcrafted style from brilliant creators is the perfect finishing touch for a special occasion or an easy way to add that wow factor to the everyday. Without further ado, presenting our glow getters.
4. Geometric clay stone dangles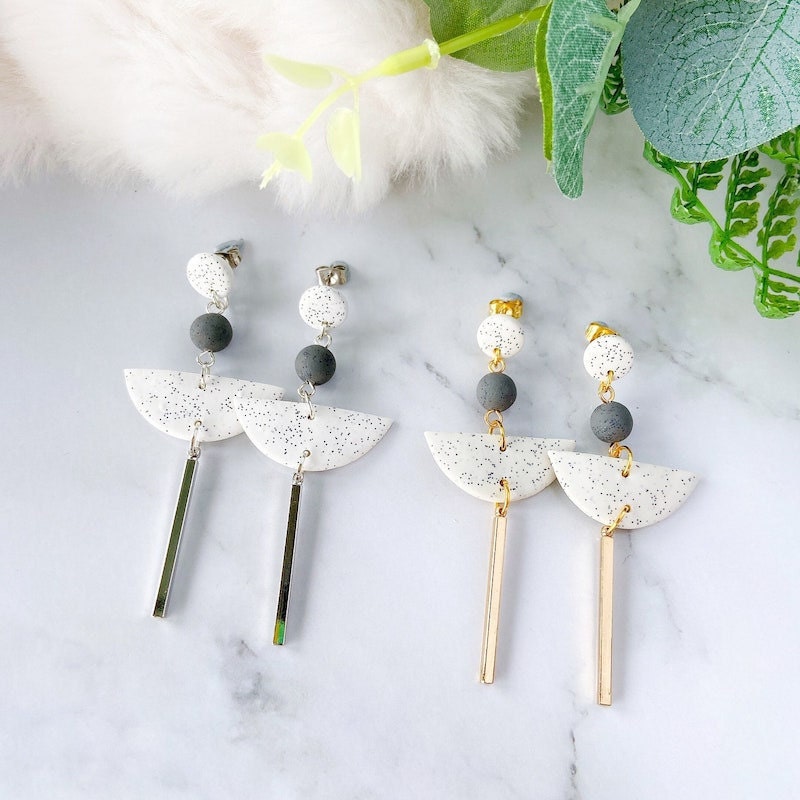 These geometric dangles come in gold or silver, push-back or clip-on. A combo of polymer clay and metal makes for mixed-media magic. And gift wrap is available with a handwritten card. Hello, perfect present!
5. Hammered gold dangles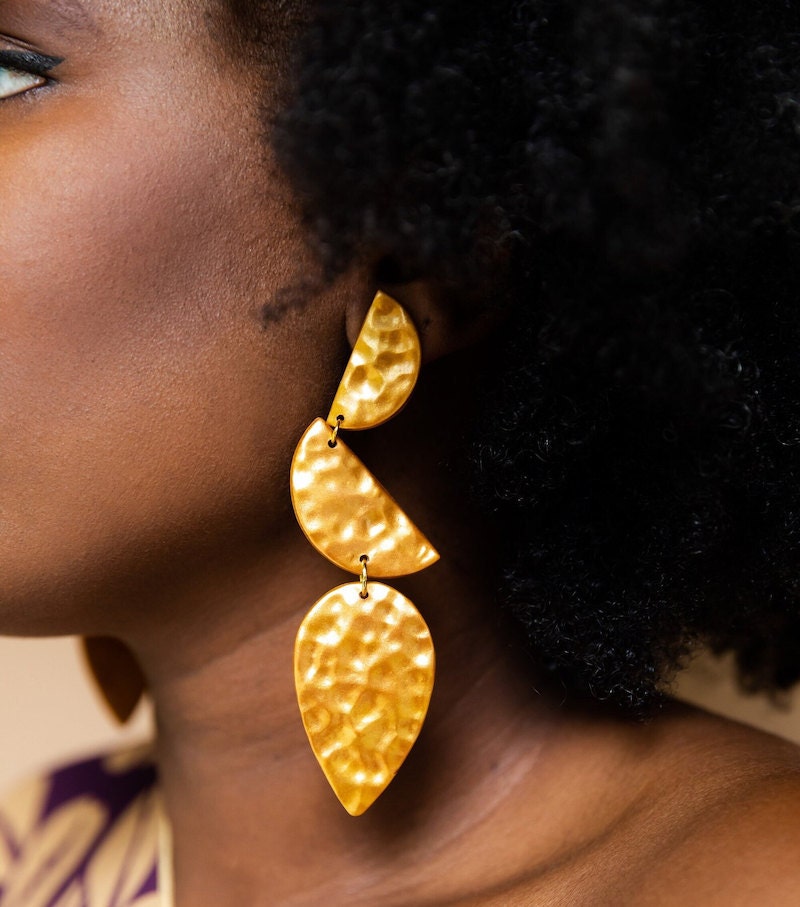 Get all the sparkles with none of the weight thanks to the lightweight polymer clay. These African-inspired earrings handmade in Seattle feature a hammered gold-plated effect for beautiful texture (plus nickel-free posts for hypoallergenic comfort).
6. Rose-gold leaf dangles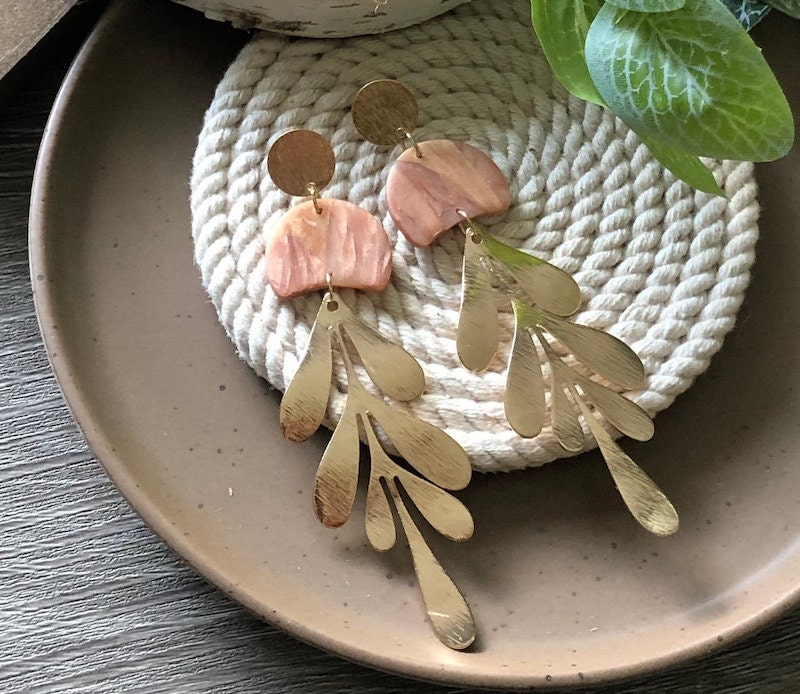 The rose gold shimmer catches the light, while the leaf design adds a beautiful botanical touch. These party earrings feature hypoallergenic backings that are great for extended wear. (Afterparty, anyone?) Best part: you get a free pair of studs with each purchase.
Pretty pastel clay earrings
Seeking an understated way to upgrade your style? Right this way. Crafted with care by local artists around the globe, these trendy pastels offer stunning shades to elevate any occasion. From power hour to happy hour, you can wear these cute clay earrings comfortably all day (and night).
7. Half-moon double dangles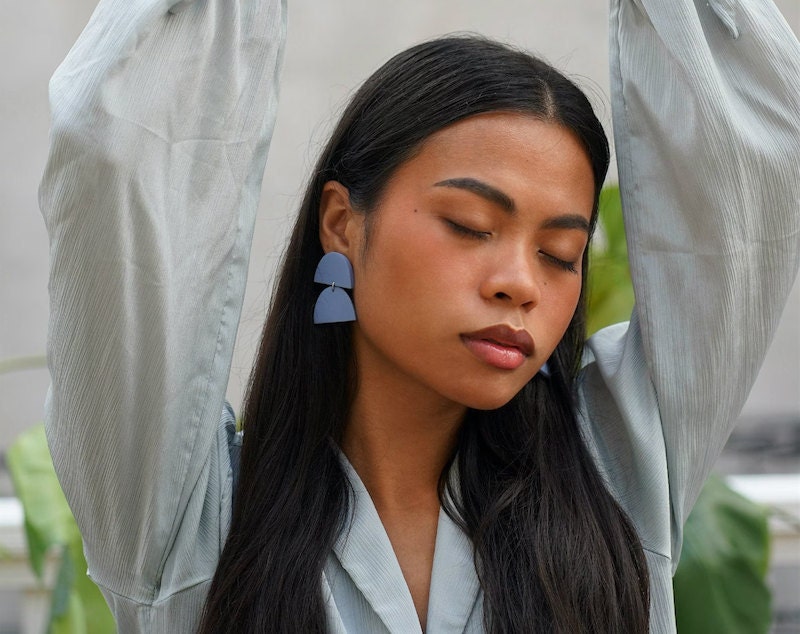 Sculpted by hand in Philly, these baby blues pair perfectly with jeans. Bonus? Shoppers love the seller's creative (and sustainable) reuse of scraps—every order includes a pair of reclaimed studs.
8. Speckled semicircles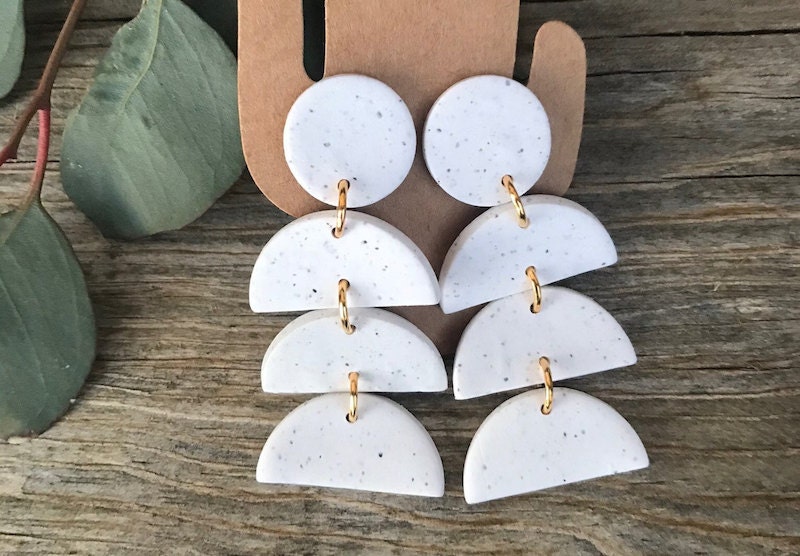 These Boho beauties feature nickel-free metals for sensitive ears. Come for the eye-catching speckled granite, stay for the weightless handmade design.
Perfectly patterned clay earrings
If you're looking to make a big statement with a small footprint, look no further. From fun foods to iconic patterns, each design is its own conversation starter. Case in point: There's nothing cuter than a cookie on your ear. Whether you're into painterly palettes or speckled spots, there's no wrong way to embrace the pattern play.
9. Palette paint earrings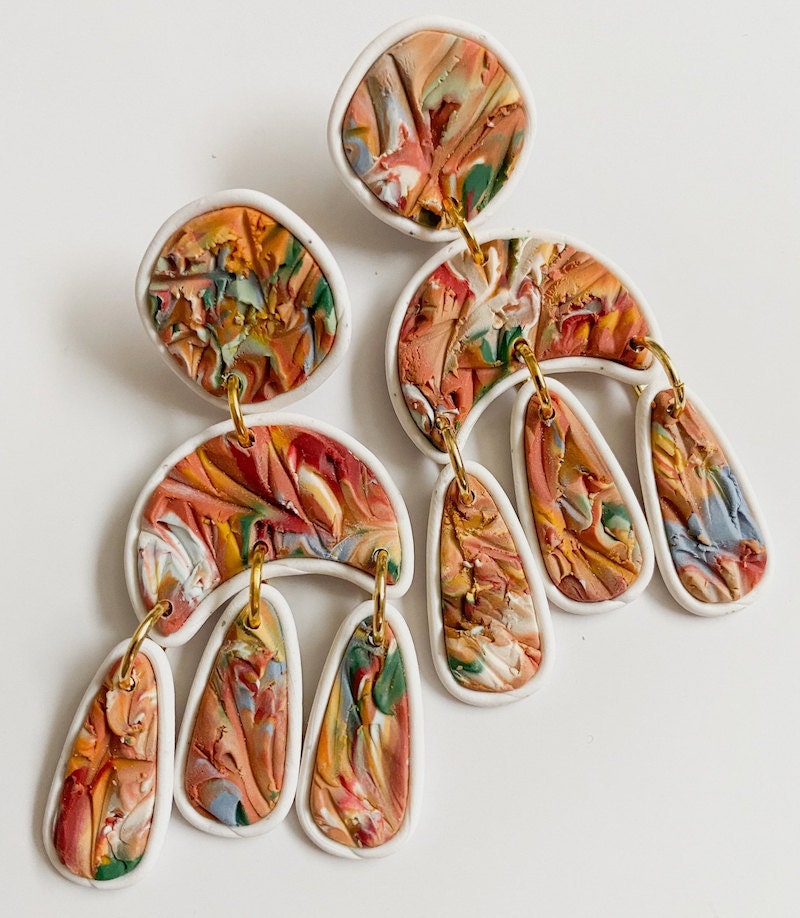 A work of art for your ears, these clay earrings feature an abstract landscape painted on polymer clay in earthy tones. No two handcrafted pairs are alike. Buyers love the "absolutely insane attention to detail."
10. Sugar cookie clay studs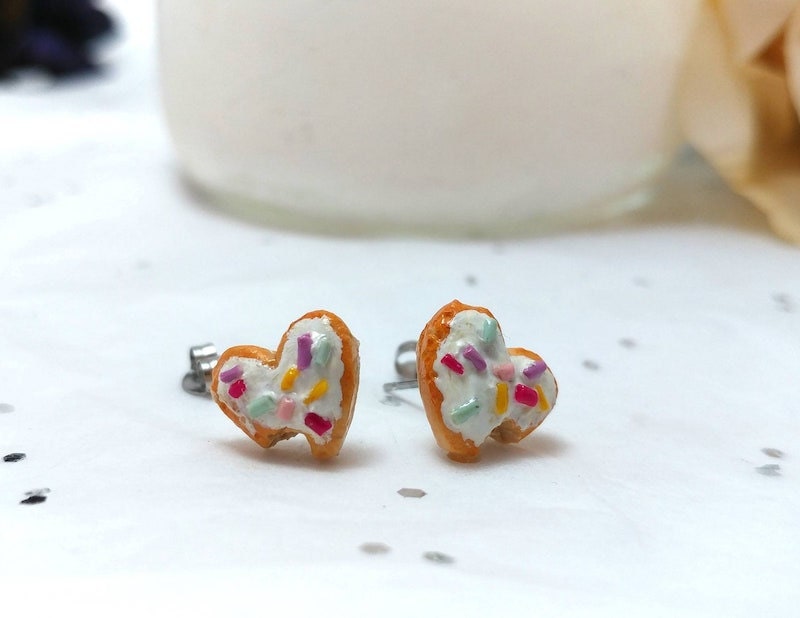 Ready for a bite of something cute? These adorable clay studs make the perfect gift for the foodie in your family (or the perfect whimsical piece for you). Even better? The surgical stainless steel studs are hypoallergenic.
11. Organic oval studs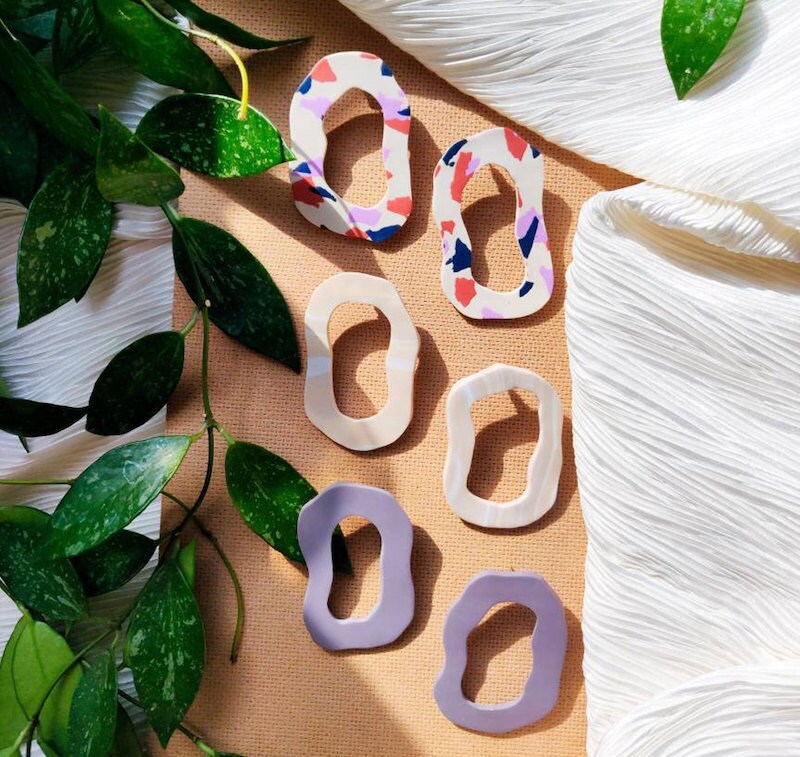 The wavy organic shape and terrazzo speckle give a new meaning to statement studs. Each pair is crafted with care by a Black-woman-owned business for a one-of-a kind feel that dresses up any outfit.
Inspired by all these cute clay earring ideas and want to try it yourself? If you're a DIY lover or just curious about how polymer clay works, check out these clay molds for earrings.
How do we pick the cutest clay earrings?
As Agatsi Journal editors and contributors research and curate shopping guides for some of the best-loved items on Etsy, we thoughtfully consider the creativity, customization, and craftsmanship that go into each product. We also consider buyer reviews, item ratings, and customer service, and tap the expertise of our in-house merchandising and trends experts to uncover high-quality finds for every budget. You can find more information about each item in the seller's listing details and can take a look at their individual shop policies and reviews, too.